Chemical and Industrial | Expansion Joints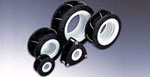 Teflon ® Expansion Joints
PTFE lined expansion joints available in 1" to 12".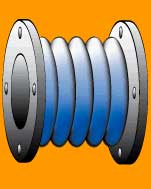 Flexicraft
A huge line of expansion equipment of Carbon steel, stainless steel and rubber. Flexible braided hose. Wall penetration seals and wall sleeves also available.

Ethylene Expansion Joints
Ethylene Flexijoint PTFE expansion joints are flexible connectors and tremor barriers designed to compensate for misalignment, absorb expansion and contraction, and isolate vibration and shock in process piping, tanks and pumps. They also offer a low spring rate to protect stress sensitive FRP, glass or graphite equipment.
Flexijoints are available in sizes 1/2" to 42" and from 2 to 12 convolutions for maximum movements.