Chemical and Industrial | Pipes
Fiber Glass Systems ®
www.nov.com/about/our-business-units/fiber-glass-systems
Corrosion and abrasion resistant fiberglass pipe. Available from 1-inch to 72-inch diameters with temperature capabilities to 275 degrees Fahrenheit and pressure up to 4,000 psi. Large local inventory.

Lined Steel Pipes
Ethylene's ChemTite® seamless PTFE liners exceed the requirements of ASTM F1545. Liner thickness ranges from .130" for 1" pipe to .425" for 12" diameter piping. ChemTite's® thick and high molecular weight liners aid in permeation resistance and are able to withstand full vacuum conditions to 450° F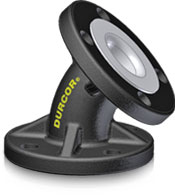 Durcor®
Durcor® is the worlds first advanced structural composite piping system lined with seamless PTFE. Its thick wall PTFE liner provides maximum internal chemical resistance while Durcor's vinyl ester resin backbone eliminates the devastating effects of environmental corrosion externally.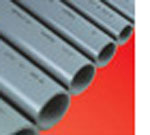 Georg Fischer
CPVC, PVC - Kynar and Polyro piping. Local inventory.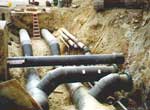 THERMACOR® PROCESS, L.P.
Pre-insulated pipe systems for direct buried or above ground, chilled water, hot water and high temperature steam.
PureFlex™ Inc.
Chemical and Ultrapure hoses and fittings. PTFE, FEP lined hoses. Silicon and PVC hoses available. Chlorine hoses. Large selection of fittings of various corrosion resistant materials.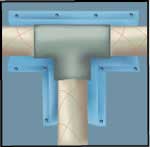 Double-Wall Pipe
Pre-engineered or field assembled containment pipe. Metal and non-metallic systems available.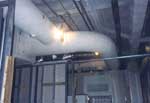 Fiberglass, PVC, CPVC, & Polypro Duct
Round and square fiberglass duct. Fire rated duct is offered. Unlimited configurations available.